Last year I was Rogue, a character I've always felt is the cartoon-metaphorical version of my love life.
Because of the nature of my job sitch, I will be changing into 6 costumes, which go as follows--
Monday: Start off the week slow with a
Tuesday: Going for a burlesque vampire. Sans feathers, and with a velvet top-hat.
Wednesday: Little Bo Peep, if she were a little brown girl like me.
Thursday: Because dancers and waitresses at work tend to call me this anyway, I figured, why not be the OG sex symbol: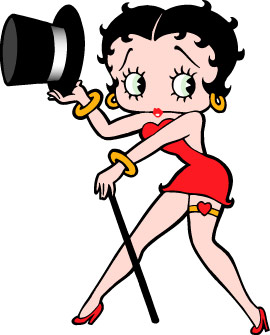 Friday: THE DAY OF OUR HALLOWEEN PAR-TAY! I don't have work, so I'll just be Betty Boop again. I know, I know. I'm cheating.
Saturday: A pin up, but drowned......
Pictures to follow the week after Halloween.
Current Location:

TH 212

Current Mood:

excited

That vision of love went out the window with the guy I lost my virginity to.

I spent the summer trying to hook up with a guy I had a crush on when I was 15 and now that im 20 pounds lighter than back then, I felt I could. Because my family in the mother-land are a bunch of cockblocker, that didn't work out. And I return to New York to a new apartment, new friends, new roomates and the same old gap that says Faithful Boyfriend.


I'm left with old men who want to be my sugar daddies, and because I don't fancy 80 year old balls in my face as exchange for rent and a new purse, I decline. The rest of them are boring, rude, more boring, cheaters, unemployed, and my art TA. I take the prize.


I can't say that I have anything at all to look forward to, not even my writing, which is the thing that I miss the most about myself. The only thing that I have to look forward to is Halloween, when I can be someone different the whole week since we dress up the whole week at Penthouse and Scores.

My costumes are as follows:

Monday(PEC): Black cat lingerie
Tuesday(PEC): Vampire/witch
(These are the warm-up days.
Wednesday (scores): Batgirl!
Thursday(scores): Betty Boop warm up.
Friday: PARTY @ my apartment, also Betty Boop.
Saturday: Drowned Sailor

These costumes require losing 11 pounds, which I've been slacking on because all the things I know how to make are greasy. 11 poundds is dooable in 3 weeks.

Back to lazy rainy PEC monday night.
Current Mood:

annoyed


Im glad that the attraction to Zac Efron runs in the family.


It's been the longest week of my life. Working 6 days straight is not my general i dea of fun, but it does pay the bills. Now that school is in, I have 2 general accomplishments: drinking and sleeping in the office.Saturday morning I didn't realize my gym opened 3.5 hours later than usual, so I walked from 19th and 10th ave all the way to Hunter. Even when people are walking to work and there are 24 hr pharmacies open, the streets are dark, silent, lonely. This morning the sunrise was blocked by the most amazing purple-gray clouds. Which is always nice to look at. The 3.5 mile trek upstown made up for missing the gym again this week.


At 6 AM, after convincing the security guards that I do belong at Hunter that early, I saw a guy who never fails to take my breath away.We smilesd, and me in my sweaty workout clothes kept walking to the OTR where I slept for a few before showering in the Lady's locker room. Hunter has the creepiest locker room. I felt like someone might walk in, because I shouldn't havebeen there to begin with, but it's saturday and I did what I felt like.


Tomorrow I hope there is dancing and sleep.
Current Location:

scores west

Current Mood:

awake

Current Music:

garbage *stupid girl*
Tags:


Despite it being one of the longest weeks of my life as far as waking up way too early for my work schedule, I feel ultra productive in my personal space. Tomorrow I will organize my books, which desperately need a home that isn't cardboard or a beat up suitcase. I need to do laundry and clean the bathroom. Leaving kitchen till next week. I almost feel like Monica from Friends cleaning the bottle of CLEANER. Then again I haven't lived in an apartment building in 9 years and the tought of bugs freaks me out.


My favorite DJ at work gave me half his shot. Past midnight when all the crazies and hornballs come to my job, I wait for the crow to pick up. There is a lot of sitting, and in the right company, a lot of fun-having. Today is not a fun-having kind of day. It is a day when I realize JACK is the worst name for a stripper. Jack is for plaid, for axe swinging, beer slinging, mountain climbing, levi-wearing, beard growing, Marlboro smoking, road god. Or, the name of a clown in a box.

The other worst name is Soraya. Solely based on the fact that when Soraya is called to the stage, it is so close to MY name, that coworkers look around, wondering if I've upgrimmed.

Alas, haven't.
Current Location:

w28th

Current Mood:

amused

Current Music:

never gonna dance again, remix


Hollaaa.

on the nicest day of the week, I'll be painting my apartment. The livingroom will be purple and cream. We're putting items up on craigslist that have been left over my previous tenants. 10 pewter jaigermeister shot glasses, anyone?

on a less amusing note, I went to Hunter to get a recertified for my Tap. The financial aid clerk from bursars was gone till wednesday, the art department advisor isn't in till next thursday, the direct deposit people closed at 3 today so I missed them by an hour, AND I didn't find Britney Spears on the Britney NYC Hunt today. *tear*

Whoever wants to help paint tomorrow, holler @ me. You will be rewarded with some iced tea from the Mountains of Ecuador....and a candy. Think about it.
Current Mood:

cranky

Current Music:

DJ Phil


2. When going in search of your bank on foot, remember google maps is not to scale.

3.When in Queens wondering where all the cute guys are, they're all in Brooklyn.

4. Learn to cook and have a dinner party for friends.

4.5 A dinner party of finger foods and cocktails because we don't have a dinner table ;).

5. Do not leave a hammer in high places, like the ladder you jut closed. Hammer will fall in your head.

6. Other Hispanic people in your building like that a fellow brown girl has moved in. This means they will observe everything you do.

7. The room you chose has the perfect lighting, but since the curtains are sheer, get dressed before putting makeup on.

8. Must store away winter clothes to make room for shoes.

9. Must eat something other than cereal and Lean Cuisine on week 2.

10. Gym is 2 train stops away. No excuse to not go.

11. Home decorating = <3
Current Location:

w28th

Current Mood:

drained

Current Music:

dj aaron, holla


but then you realize, they have your Gatsby party dress in their closet. That they were telling you 'you left your dress here' over and over again because they knew they were going to break up with you, but it never occured to you then.

He can have the dress. You'll never wear it anyway. But you want your Gatsby novel, and you want your Vonnegut because it's the only book that's ever made you cry like that.

you're not the kind of girl who wants to be friends because boys are like hydra heads.

you only want your books back.


I slept poorly because I was all revved up for the gym and ended up watching Dead Like Me season 1. I think I don't like the show as much as I could because the main character looks like an ex-friend I had, and she's also weird looking on top of that. The ex-friend and the actress.

there is a new Shakira song out called She Wolf. It's very french techno-scene meets new Britney with some of Shakira's usual hooks. My favorite like is really just when she howls. Thereare not enough songs about wolves.



I have a 3 day weekend, which I haven't had in a long time. It feels good to sleep, or it will feel good to sleep, once I get to actually sleep.
Current Location:

scores

Current Mood:

tired

Current Music:

britney -gimme more


Gymgrrl: I have skinny fat. Like im totally fine with clothes on, but when im all naked in the mirror, I hate looking at my cellulite and love handles.

Me: *one earbud with britney and one ear free* yeah...

Gymgrrl: so I'm taking that slimquick extreme which is just for fat and I've lost 5 pounds already. It's like amazing. You should try it.

Me: yeah sounds good.

And later that day, I did buy them. So we'll see. I know a lot of girls taking diet pills and still eating what they want and not working out. I don't like to talk about weight with other people because it's such a personal thing. But sometimes I just want to say, 'that's not going to help you.' You can't take dietary aids and not change your lifestyle/ eating habits.

Going to Ecuador in 2 weeks is going to be hard because my grandmother serves a lot of food. And I can't be rude and not eat. I just have to tell her from the beginning. I can't undo everything I've done this summer in 10 days, even if I haven't done that much this summer.

After the gym, and after my shower, and once I fell asleep, I can surely say that I had the worst nightmare. Someone I love in my family died in a stampeed, there was a police raid and a lot of panic. I woke up, heart racing and all.

Right now I'm @ work,, wishing I were in front of my laptop because i'm so in love with my main character, that I want to write his story until it's done. I've hand written about 700 words tonight, so that's pretty good. I want to be half way done by the time I have to go to ecuador, so Ilm going to be reclusive most of the time. Especially when I come back from ecuador.

School seems like excess, like a chore, like a waste of time because iLm not learning anything I don't already know. The discussions are mediocre, and I have better conoversations about books on blog comments.
br> if you'd like an ecuadorian keepsake (other than myself), let me know. We have excellent booze, and delish candies.
That is exactly the face I'm making right now.
I have killed off the father, brought him back. Made a new character. Figured out that when I over think, I write worse than on a regular day. I'm okay with writing really shitty stuff, as long as I'm under-thinking and not over-thinking.
HARRY POTTER AT 10 AM ya'll. I'm gonna pee in my pantaloons.
Current Mood:

awake
Tags:
Zoraida Cordova
Latest Month
October 2009
S
M
T
W
T
F
S
1
2
3
4
5
6
7
8
9
10
11
12
13
14
15
16
17
18
19
20
21
22
23
24
25
26
27
28
29
30
31